Samsung Galaxy Note is coming to Verizon as the Galaxy Journal?
49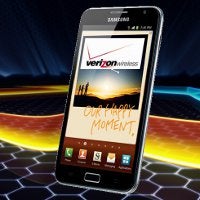 Arguably, one can say that
Verizon
managed to do right by forgetting about the Samsung Galaxy S II, seeing that they eventually brought along the Samsung Galaxy Nexus before anyone else. Even though the exclusivity is short lived because
Sprint is bound to start selling its own version soon
, it simply goes to show how Verizon is willing to go above and beyond its rivals to get the best devices onto its lineup.
Well folks, it seems that we'll be seeing that same mentality because the rumors point to the possibility of Big Red getting its own version of the ridiculously large smartphone in the
Samsung GALAXY Note
– yeah, the same one
coming to AT&T officially
. According to the rumors spewing around, Big Red is allegedly in the pipeline to carry a version that's going to be dubbed as the
Galaxy Journal
. Frankly, it's a fitting name when you take into account the kind of functionality you get with the S Pen.
Currently, it's not certain if Big Red will indeed be getting it, but you really can't count them out when they're consistently getting some quality devices all the time. Moreover, it's rather difficult to predict at this time whether
Sprint will be getting in
with this one as well – though, anything's possibly when you think about the kind of aggressive approach Samsung has taken of late.
With 4G LTE support by the big three carriers in the country, it wouldn't surprise us if Samsung simply decided to go forward and bring the device to Verizon and Sprint – especially when
AT&T's version is enabled for 4G LTE connectivity
. As much as we'd love to get all giddy about this, we have to turn it down a notch and take it with a grain of salt at this point.
via
SlashGear