Samsung DROID Charge could launch as soon as Tuesday on Verizon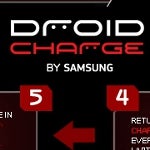 The Samsung DROID Charge should have already been launched by Verizon, But as we
reported
, the handset was delayed for an unknown reason. The announcement of the delay coincided with Big Red's LTE outage. Combined with the fact that the DROID Charge is Verizon's second 4G enabled phone,
some felt that the handset was delayed due to the 4G outage
and would be launched just as soon as Verizon's 4G network was back up and running. This, of course, never happened.
But we do have a clue when to expect the Samsung DROID Charge to be released and the good news is, it could be as early as this Tuesday. A leaked screenshot that apparently was meant for Verizon
eyes only
says that kiosks will start receiving inventory of the phone on Monday with all locations "fully stocked" by Wednesday. According to the document, the Samsung DROID Charge cannot be sold before Tuesday and Costco has placed a "Do not sell" red flag on the phone. It also says that "Confirmation of a revised launch date will be sent Monday."
It all adds up to a launch for the Samsung DROID Charge as soon as Tuesday, perhaps no later than by the end of next week. By Monday, we could know the official details.
source:
AndroidCentral