Samsung Behold 2 slated for a November 18 release date while "Tap" set for the 11th?
This article contains unofficial information.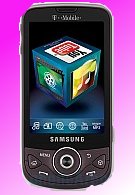 T-Mobile has been graced with a fair share amount of Android powered devices – some have been released while others are gearing up for launch day. Sure we know that Motorola made some heads turn with the Cliq and their one of a kind Motoblur. When it comes down to what's under the hood, you'll find that it has a lot in common with the other Android devices on T-Mobile's lineup. The Samsung Behold 2 is speculated to be released on November 18 – based on a leaked screen shot. Although there's no official word around the specs on the processor, everyone is hoping to see a bump in that category – especially with Samsung's custom TouchWiz UI and "exclusive cube menu." There's plenty of things we can mention that really places this Android device above the current crop. Not to be lost in all the Android fun, there's another T-Mobile handset named "Tap" that's considered to be a lower end touch screen phone – it's hard street date is set for November 11. For right now though, you can mark down November 18 as the big day if you're looking for yet another Android handset.
Samsung Behold 2 Preliminary Specifications
source:
TmoNews
via
Gizmodo