Round2 is a fast-paced casual game that tests your reactions, and you won't last long
1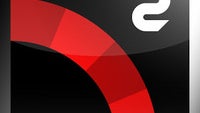 It is fascinating how even a simple, minimalist mobile game can keep players amused for hours. Just think of Flappy Bird's success – it was pretty basic on a conceptual level, yet many of those who played it couldn't put their phones down.
Round2 fits into the same category of addicting and fiendishly difficult titles. Simply put, it is a game that tests your reaction skills – your objective is to survive for as long as possible and not crash into the obstacles coming at you from left and right. The more you play, the higher the speed of the game gets. And that's it. You get the hang of it in a matter of seconds, and each time you die, you feel the urge to start over in attempt to beat your previous high score.
Round2 is complemented by a soundtrack consisting of six energetic techno tracks. These go along with the title's fast-paced gameplay pretty well. Those who wish to do so may even download the game's soundtrack for free from the developer's web site.
The game itself also comes at no charge. There are ads, however, appearing after every 5 tries, but we didn't find these too annoying.
| | |
| --- | --- |
| Developer: OneLastTry Studios | Download: Android |
| Genre: Arcade | Price: Free (with ads) |