Revealing LG G3 leaked images show its size, compared to HTC One (M8)
60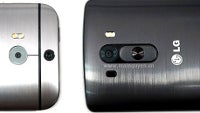 The G3, LG's 2014 flagship phone, is due to be officially unveiled tomorrow, but leaks just keep on pouring from all sides, and this latest one coming from Vietnam shows the G3 alongside the HTC One (M8). It's a revealing image because you can very clearly see the difference in size between the two flagships, and how the 5.5-inch G3 - as compact as it is - is still noticeably bigger than its 5-inch HTC rival.
You can also clearly see the new laser auto-focus assist light that is said to arrive on the G3. Rumors all agree that the laser light is there to make focusing on objects faster and more accurate, and we're looking forward to seeing it in action tomorrow. We've seen such a feature on old Nokia Symbian phones way back in time, but in recent years no company has used this technology, so it's definitely one of the more exciting novelties around the G3.
What's most fascinating, though, is clearly the new Quad HD (2560 x 1440-pixel) super sharp, 5.5-inch screen on the LG G3. Our coverage of the G3 starts tomorrow, so make sure to check in and share your expectations about LG's new big thing in the comments below.