You can save $400 on the Razer Phone 2 with this limited time offer
1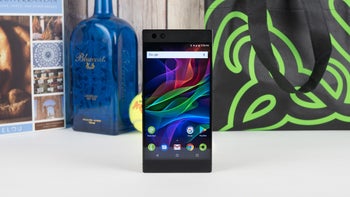 Pictured: the original Razer Phone
Gaming smartphones started as a bit of an odd trend, but over the past couple of years, they've managed to secure a place in the hearts of a relatively sizable audience. Since they're almost always stacked with the latest and greatest tech, gaming phones tend to be on the expensive side, so it's always exciting to see a good deal on one, if you're looking to buy (even if it's a couple of months old, as is the current case).
The Razer Phone 2, which was originally priced at $800, is now 50% off for a limited time in Razer's official online store! Even though it came out last year, the Razer Phone 2 for $400 is a sweet deal, no matter which way you look at it (if you're in the market for a gaming phone, that is).
One of the biggest selling features of the Razer Phone 2 is its 120Hz UltraMotion display, which has a resolution of 2,560 x 1,440, and can deliver very high frame rates during gaming (not to mention that it also makes the entire OS appear smoother, especially when scrolling). But what would a gaming device be without a proper cooling system? Thankfully, this phone has one in the form of a vapor chamber that keeps the phone cool during heavy use by providing a n increased surface area to dissipate the generated heat.
The phone is also powered by a Snapdragon 845, has an ample 4000 mAh battery, and 8GB RAM to boot. In other words, if you're looking to get one, now's the perfect chance to save 50% on your purchase. We have no information on how long the promotion is going to run, but Razer's official online store says that the deal is a "Limited Time Exclusive."
Get the Razer Phone 2 at 50% off ($400)