Possible iPad Mini parts leak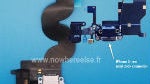 With less than a month to go before the presumed announcement date for the new iPhone and iPad Mini, you should all know that the rumors will start coming fast and furious from here on out. The latest comes in the form of components which could be part of the upcoming iPad Mini.
The pics show what could be the dock connector flex cable of Apple's upcoming tablet. The cable shows the dock connector, home button, and headphone jack all being placed on the bottom of the device. This is a little different from other leaks we have seen, which have had the headphone jack on the top of the device. That difference could mean this leak is less likely to be true, or of course that the other leak wasn't accurate. We kind of hope this is the real design, because having the headphone jack on the bottom can help a lot in reducing wear on the headphone wire.
At the very least, it seems like we will be seeing an iPad Mini announced next month, and we're sure there will be more leaks, rumors, and
mockups
like the ones we've already seen.
Recommended Stories