Educated guess mockups portray the iPad Mini as an Apple tablet at heart, stuffed into an iPod touch-thin body
12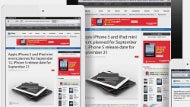 As
slim as an iPod touch and with minimum bezel
, but as fully-functional as the new iPad - that's what the latest ruminations on the matter claim practical about the upcoming
iPad Mini
, and add some value trying to envision it in mockups.
A few publications yesterday speculated on the matter and even had a few mockups drawn quickly to show what this large-iPod-touch-but-iPad-at-heart affordable tablet from Apple might look like in the end. We won't go into details on their logic, but instead you can see the final results from these intellectual efforts to imagine what an iPad Mini might look like in the slideshow below. We are also adding all the cases, chassis and schematics claimed ot be of the affordable Apple tablet we've managed to unearth and post so far for a clearer comparison.
A design that's lighter and more compact than the Android 7-inchers, but with a screen size that is closer to the 8" mark, taking full advantage of the many thousands of tablet apps for iOS can certainly make an eventual iPad Mini stand out in a big way, especially if the
rumored $200-$300 price range
, depending on the sources, pans out. What do you think?
Recommended Stories