Popular breaking news app News Republic gets 'Made for Samsung' version with exclusive features
4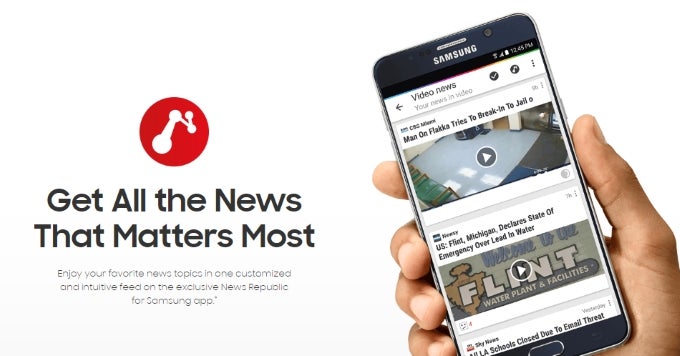 News Republic is among the most popular news aggregating apps with its humongous choice of sources and fast performance. It looks like Samsung noticed it and got interested, thus a "Made for Samsung" version of News Republic spawned inside the exclusive Galaxy Apps store. It's still the same app, but made to take advantage of several Samsung inventions.
Owners of the Gear S3 smartwatch receive a widget showing Top Stories. Users of Galaxy Note devices can point the S Pen to an article or video for an overview. And owners of the Galaxy S7 edge get a news shortcut for the Edge Panel app. Breaking news scroll on the edges and tapping them opens the article for reading. You can also long-press a topic to get Wikipedia data from the News Republic app and use a text-to-speech function to have news read to you.
The News Republic for Samsung app is available on select devices only. There's no way to tell which ones, as Samsung hasn't published a list.
ALSO READ