Polaroid Spectrum lineup revealed – a trio of modest Ice Cream Sandwich tablets
1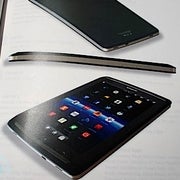 In case you haven't yet been overwhelmed by the multitude of Android tablets that were presented at CES 2012, here is another bunch of them, this time bearing the Polaroid brand name. Introducing the
Spectrum 7, 8, and 9
– a trio of modest Ice Cream Sandwich slates all powered by a 1GHz Cortex A8 processor, which is accompanied by a gig of RAM.
What we know about the Polaroid Spectrum 7 is that its 7-inch display has a resolution of 1024 by 600 pixels. The Spectrum 8 and 9 have an 8- and a 9.7-inch displays respectively, the latter being with a resolution of 1024 by 768 pixels. All of them come with a pair of cameras – a 2-megapixel in front and a 5-megapixel in the back, while their storage capacity varies between 4 and 16 gigabytes.
We don't really know how much the Polaroid Spectrum tablets will retail for, but we doubt that any of them will break the $250 barrier. Expect finding these in a store near you later this year.