Pokemon Go players, check out this Pokeball external battery pack
8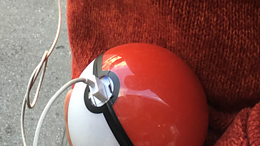 Besides often facing
awkward, or even dangerous situations
, Pokémon Go players also have to deal with the fact that the game drains battery life like crazy. There's nothing worse than being out, trying to catch a rare pokémon, and running out of power, right? Well, for scenarios like this one, you could buy a battery case, or a power bank. Or, better yet, you could purchase a Pokéball-shaped external battery.
Available to buy from Etsy for $40, the Pokéball power bank that we're talking about has a universal microUSB port, so it should work with pretty much any smartphone out there (though in some cases you will need an adapter). The accessory includes a 5300 mAh battery, allowing you to charge your phone 2 or maybe 3 times (depending on model) while on the go. Also included is a clasp that lets you attach the Pokéball to your belt or backpack.
Usually, 5000 mAh USB portable batteries cost way less than this, but Pokémon Go fans will probably appreciate having a Pokéball by their side, rather than a normal power bank, isn't that right?
source:
Etsy
via
AusDroid