PinTasking faces your Android multi-tasking duties with app pins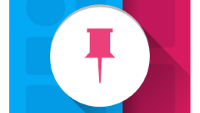 PinTasking is a small, yet extensively customizable app made to enhance your Android multi-tasking. Its basic purpose is to let you open an app or document, pull down from the upper edge of the screen, and "pin" it to the left or right screen edge for easy access. The rest of the functionality is completed by the many customization options. First off, you can customize the look, feel, and behavior of pins - pin size, distance to edge, auto remove, that kind of jazz. The swipe pad for pinning apps has action, position, and height controls so you'll be able to use it in your own special way.There's also browser extension to help you pin links like you do apps.
Although it is in beta, PinTasking is a polished app, complete with a material interface. It's definitely not one of those arkane black and gray apps designed for computer science graduates. However, the beta tag, which the app will be holding until May 11, does stand for a warning against a fair share of bugs. For example, adding more than two pins on the screen is disabled due to "pin collisions", and pins may disappear randomly.
It may take a while before the developer tightens up those loose nuts and bolts of functionality, so right now, we suggest you add PinTasking to your watchlist and come to back to it when a more stable version is available. On Android 5.0 devices, the app requires root permissions to run, while other users can enjoy it root-less. Bugs aside, PinTasking is already a polished app that's full of potential.