Photos of the Xiaomi Mi Note disassembled showcase flagship-like inner beauty
5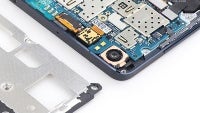 Want to have a look at the Xiaomi Mi Note's beautiful insides? Come, take a peek - you won't be disappointed! Tech website IT168 took apart othe phablet and published naturalistic, raw photos of the brutal aftermath! Relax, we're only entertaining ourselves, as the photos are anything but scary. In fact, the Mi Note is as beautiful on the inside as it's on the surface. Look at how tiny all that powerful hardware in it is in reality! The engineering work on display is certainly impressive.
If you're not up to speed in regards to what hardware does the heavy lifting in the Xiaomi Mi Note, we're talking about a smartphone with a 5.7-inch 1080p screen, powered by a Qualcomm Snapdragon 801 quad-core processor, 3GB of RAM, 13MP main camera, 4-megapixel front UltraPixel camera, three sound processors, dual-SIM (micro & nano) slots, and a 2900mAh battery - all stuck inside a 0.27 inch (6.95 mm)-thin body. Even more impressive is the Mi Note Pro, which looks has the same svelte look, but upgrades the configuration with a Quad-HD (1440p) display, octa-core Snapdragon 810 processor, and 4GB of RAM.
Xiaomi really stuffed its 2015 flagships full of powerful technology, but sadly, it will be a while before you can easily buy one outside of China at the regular price of $372 (2299 yuan) for the Mi Note and $532 (3300 yuan) for the Mi Note Pro. Still, importing's always an option.