Pelican Imaging demos 16-lens camera that can build a 3D-printable model of what you record
13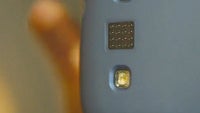 Pelican Imaging
is a name you should remember - the company makes a brand new type of a smartphone camera where using not one lens like all smartphones do today, but a whopping 16 lenses. That opens up a world of possibilities. The most obvious benefit of a 16-lens camera is that
images will always be in focus
and you won't need to worry where exactly to focus the image, as you can select that focus after you take the picture.
There is something more, though. Pelican has just announced that by taking a series of pictures or a short video, the camera gathers depth information that allows it to build a 3D model of an object. You can just take a short video and then use the model that has been generated for a realistic 3D print. That is seriously impressive stuff.
When is it coming to real smartphones, you wonder? Pelican Imaging plans on launching it in 2014, but did not shy away from showing its impressive functionality now.
source:
Pelican Imaging
via
Engadget