Panasonic ToughPad FZ-A1 hands-on
1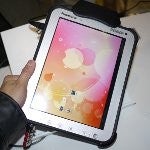 If a 7-inch ruggedized Android tablet is simply too small for you, then you'll be pleased to know that
Panasonic
is one step ahead of you. In addition to their
ToughPad JT-B1 model
, Panasonic has a larger
10.1-inch tablet in the ToughPad FZ-A1
, which also happens to be both
MIL-STD 810G compliant and IP65 certified
.
At their booth at CES, we managed to see the larger Panasonic ToughPad FZ-A1 alongside its smaller sibling, but to tell you the truth, it's tough for us to fall in love with this
chunky
tablet. In a world when thin and light is all the rage, the Panasonic ToughPad FZ-A1 is far from that, as it's sporting one impenetrable design that's both water and dust resistant – while also being well protected from drops of 4 feet.
Even though we can't get the
monstrous size
of the tablet from our mind, it doesn't help that it's encased by this bar code scanner contraption, which will prove to be useful for some people, but when we're looking at it for the first time, it basically makes the tablet appear even more gargantuan. With its
10.1-inch XGA (1024 x 768) TFT display
, it's lagging behind in the details department, which doesn't help either when its viewing angles are abysmal. Regardless of that, you can "
accidentally
" spill something on it or drop it completely, without the worry of something happening to it.
Under the hood, it's powered by
dual-core 1.2GHz Marvell processor with 1GB of RAM
, which seems decent enough to run the Android 4.0 Ice Cream Sandwich experience on there. Much like other tablets, it's outfitted with an assortment of standardized ports to make it a versatile thing on the road – but then again, its massive size and weight will surely give most people a good workout carrying it around. Expanding its functionality, it features a
tucked away a stylus
in the rear that can be used for jotting down quick notes, but don't expect anything comprehensive like the Galaxy Note's S-Pen stylus.
Ultimately, some people are going to judge whether or not its
$1500
cost is going to be worth the investment for something that's rugged. Taking everything into consideration, that's like paying for three Google Nexus 10 tablets, which we all know is probably the king of all Android tablets at the moment.