Panasonic Toughpad A1 is a rigid $1299 Android 10" tablet with 4G radios, 7" B1 is on the way
13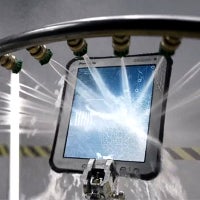 The Panasonic Toughpad A1 Android tablet got announced, and it follows in the footsteps of the company's Toughbooks, which have earned it street cred in challenging working conditions - from law enforcement, to construction sites.
Being the first brand name rugged Android tablet, it does pack some surprises inside as well as outside. Inside it is the first Android tablet we've heard of with the chip maker Marvell's 1.2GHz dual-core processor. After
Intel sold a mobile processor unit to Marvell
, they have been working hard on ARM-based versions as well, and a lot of their silicon can be found in e-readers, for example.
Marvell outed a
1.5GHz dual-core processor last year, the Armada 628
, which is probably what we have in the Panasonic Toughpad A1, underclocked to 1.2GHz to save on battery. Armada 628 has a third core, clocked at 624MHz, for the mundane tasks, similar to the designs of TI's OMAP, or NVIDIA.
The rest of the hardware specs are 1024x768 pixels of resolution for the "
high-brightness, daylight-viewable
" 10.1" display, 1GB of RAM, 16GB of internal memory plus a microSD slot, 5MP rear camera and 2MP front-facing one for video chat, plus Wi-Fi, Bluetooth, GPS, and your flavor of 4G radio choice - LTE or WiMAX. There is also a microHDMI port, and the battery is rated for 10 hours of usage.
The dimensions, you would ask? It's 0.67" (17mm), and 2.13 pounds (1kg) of weight. Not the most elegant out there, but not nearly as bad as we would expect from a tablet that corresponds to military grade specifications for resistance to dust, shock and water. There will be docks and keyboards available as accessories, and the Toughpad A1 comes with an active stylus for the digitizer. The camera obviously has some OCR software attached to it as Panasonic says it is a "documentation camera", and the handwriting recognition is able to capture your signature for signing them docs on the go.
Android 3.2 Honeycomb runs the rugged show, and there will be a 7" version called the
Toughpad B1
, which doesn't have specs released yet. The wonderful flexibility of Android to offer diverse and specialized devices comes with a price in the case of the Panasonic Toughpad A1 - and it is
$1299
, but you get 3 years of warranty. With that price tag, only big corporations and government agencies that are spending tax dollars will be the likely clients, so we can't say we didn't laugh at the comment under the promo video: "Now the Army can play Angry Birds, too."
Watching the video below might make you really, really want one too, though, so be warned. In this case, hold your horses until Spring 2012, when the A1 will be hitting hardware stores.
PANASONIC UNVEILS TOUGHPAD FAMILY OF PROFESSIONAL-GRADE ANDROID-POWERED TABLETS

World's most reliable 10″ and 7″ tablets deliver the enhanced security, advanced device management and application eco-system required by business and government users

Secaucus, NJ, November 7, 2011 – Panasonic, an industry leader in rugged, reliable handheld and tablet computers since 1996, today unveiled the Toughpad™ family of professional-grade Android™-powered tablets (#Toughpad), which includes a 10″ and 7″ device. The devices–targeting mission-critical and highly mobile workers–will be supported by an eco-system that includes an enterprise focused app store, peripherals, developer tools, deployment support and more.

The 10″ Toughpad A1, available first, is ideal for highly mobile outdoor workers in markets like aviation, construction, field sales and the public sector, where exposure to extreme environments is a constant challenge and the consequence of a failure is significant. The device can also be used as a tool to optimize business processes as a cost effective pen / paper replacement. The 7″ Toughpad B1 targets similar markets, but in applications where screen real estate is not as critical and where device mobility and portability are critical.

"Panasonic has been a leading force in the government and enterprise mobile computing space–including tablet, convertible tablet, and handheld devices–for over fifteen years," said Rance M. Poehler, President, Panasonic Solutions Company. "For many manufacturers this is new territory, but it's currently one of Panasonic's growing product categories. Because of this, we have the unique ability to apply our market knowledge, intellectual property, engineering and R&D resources to deliver an Android-powered tablet that is radically different from the largely consumer-based devices on the market today. The Toughpad tablets are developed from the inside out to address the needs of the business users. As a result, our customers will get the most rugged, reliable and enterprise-appropriate tablets in the world – helping to drive efficiency and productivity in ways that were never possible. The Toughpad tablets will be backed by our world class service and support infrastructure, including our U.S. dedicated hot-line support, 2 day or less service turn-time, and our customer facing field engineering staff."

Panasonic has created a purpose-built line of Android-powered tablets, designed with enhanced security, long product life, and advanced device management in mind. The Panasonic Toughpad family will allow government and commercial enterprises, as well as SMBs, to realize the true potential of tablet computing without sacrificing security and while delivering a high return on investment.

Enterprise-class Security

Enterprise-class mobile computing requires an enhanced level of device security that is not available in today's tablet market. To address this need, the new Toughpad family is designed with security in mind. The Toughpad A1 incorporates security embedded at the hardware level and offer technologies like hardware and software encryption, enhanced VPN, dual factor authentication, trusted boot and device management. This enhanced level of device security means the Toughpad A1 will be compliant with FIPS 140-2 for Federal government use and HIPAA ready for healthcare environments.
The Toughpad family can be managed with a custom set of low level controls that provide IT Administrators with unprecedented power over their Android-powered devices. This level of mobile device management (MDM) is essential for successfully deploying and managing Android-powered tablets in the field. These controls allow IT managers to distribute applications in a one-to-many environment, secure devices from unauthorized use and many other granular features not found in consumer-grade Android-powered tablets.

A Rich Application Environment for Government and Enterprise Mobility

Besides having access to the existing selection of Android Market applications, the Toughpad is supported by the Business AppPortal, an enterprise-focused app store offering best-of-breed vertical market specific solutions as well as applications addressing broad enterprise concerns, including Mobile Device Management, security and virtualization.

This highly secure, cloud-based user storefront allows IT Managers and developers to store, download and test applications for use on their Toughpad devices. Panasonic will also offer private application stores within the Business AppPortal, which businesses can customize to meet their specific needs.

Purpose-built for Real-world Mobility

The Toughpad A1 has a high brightness, 10.1″ XGA capacitive, multi-touch, daylight-viewable screen so mobile workers, in markets like supply chain logistics, utilities and the military, can easily see critical data and operate the device regardless of lighting conditions.
The Toughpad A1 offers a stylus and active digitizer, enabling flexible data entry in the field, as well as signature capture and handwriting recognition functionalities–ideal for sales, customer service and mobile point-of-service environments. Other features include integrated cameras, a serviceable battery, multiple options for peripheral connectivity and battery life that will accommodate a full day of work.

The new Toughpad family is designed to meet many of the same durability standards as Panasonic's Toughbook PC product line. The devices have MIL-STD-810G ratings for drops as well as ingress protection ratings for resistance to dust and water. The Toughpad A1 is also rated for use in a wide range of temperatures. This elevated level of durability results in tablets that deliver reliability in almost any environment, assuring maximum mobile worker productivity.

The Toughpad A1 offers optional 4G (LTE or WiMAX) mobile broadband as well as Bluetooth v2.1 + EDR, 802.11a/b/g/n Wi-Fi and satellite GPS.
Panasonic Toughpad A1: Select Features and Specifications
Operating System
Android 3.2 (Honeycomb)
Processor
Marvell 1.2 GHz Dual-Core Processor
Storage
16GB
Optional Storage
MicroSD optional up to 32GB
RAM
1GB LP-DDR2
Display
500 nit, daylight readable, 10.1″ XGA (4:3), capacitive multi-touch with anti-reflective and anti-glare treatment and built in ambient light sensor
Battery Life
10 hours (serviceable battery)
Weight
2.13lbs (without pen)
Drop Rating
4 ft.
Ingress Protection
IP65
Temperature rating
14F to 122F (operational)
Inputs
Micro-USB, microSDHC, micro HDMI
Camera
5MP rear, 2MP front
Connectivity/Comms
4G (LTE or WiMAX), 802.11 a/b/g/n, Wi-Fi Hotspot, Bluetooth v2.1 + EDR, Satellite GPS
Security Features
Hardware-level security, FIPS 140-X and HIPPA compliant, cable lock slot
Dimensions
10.5 x 8.3 x 0.67 in.

Pricing and Availability

The Toughpad A1 will be available in the Spring of 2012 starting at $1299. The Toughpad B1 will be released later in 2012, with more details coming closer to availability. Both devices can be purchased through authorized Panasonic resellers.
Sales inquiries for Panasonic's Toughpad family of Android-powered tablets should be directed to sales.psc@us.panasonic.com or 877-803-8492.

The Toughpad family comes standard with the industry's most comprehensive 3-year warranty.

Panasonic will offer a full set of professional-grade accessories to support the Toughpad line, including cases, mounts, printers, keyboards, magnetic stripe readers, Smart Card Readers and multi-unit storage and charging solutions.
More information on the Toughpad tablets can be found at http://www.PanasonicToughpad.com

Images of the Toughpad can be found on the brand's Flickr page; various Toughpad videos can be found on the brand's YouTube page and an article discussing enterprise tablet computer deployment considerations can be found on the brand's blog – Toughbloggers.com.
Follow the Toughpad Brand (#Toughpad):

The Panasonic Toughpad brand can be followed on various social media channels, including Facebook, Twitter, YouTube, Flickr and Toughbloggers.com.
source:
Panasonic