PDF Expert 2.5 for iPad gets virtual document signing, takes the office in the field
3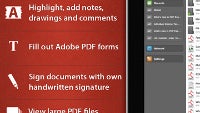 PDF Expert 2.5
for the iPad got released yesterday, bringing along a rather useful feature, the ability to
sign a PDF document directly on Apple's tablets
. You import your own signature in the app, which can be used multiple times, but the "Customer Signature" option is one-time only, and is never stored, thus complying with the insurance industry's regulations.
"
Signing agreements on the iPad is a huge opportunity for many companies that has sales people working in the field. Prior to PDF Expert they needed to prepare agreement in the office, print it, sign with the customer, go back to office, scan it and upload to company server. Now all they need is the iPad with PDF Expert
", pitches Alex Tyaguslky, Readdle CMO.
The signing feature comes in addition to the other virtues of PDF Expert 2.5., like
form-filling
and annotating, some of which are unique among the iOS PDF apps. Realtors and insurers, as well as medical and manufacturing professionals have adopted PDF Expert for their mobile document management needs already, but the ability to add the customer's signature in a dynamic field in your document surely brings a new twist. PDF Expert 2.5 is $9.99 in the App Store.