Orange San Diego goes official: first Intel-based smartphone for Europe arrives June 6th
4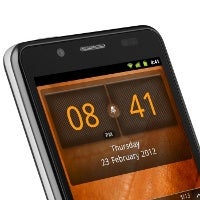 The
Orange San Diego
is the first Intel Medfield-based smartphone to arrive in Europe and the Western World after the Lava X800 hit the Indian market earlier. Previously referred to as the
Oranta Santa Clara
, now the San Diego comes for a very lucrative retail price of only around $310 (199 British pounds) on June 6th in the UK.
The Orange San Diego looks much like Intel's reference platform - it features a 4-inch display with a resolution of 600x1024 pixels, pretty close to an HD screen. The main highlight though is on the 1.6GHz Intel Atom Z2460 processor,which fared very well in the benchmarks, on par with other high-end ARM designs in terms of processing power, and slightly behind in terms of graphics.
There's 16GB of internal memory, and the phone is of course capable of reenacting 1080p video. The 8-megapixel rear camera actually also records in 1080p.
The bigget bummer for the San Diego is the fact that it ships with Android
2.3
Gingerbread on board, and that seems dated now. You'll be able to get it soon in the UK, and on a two-year contract the price drops to £15.50 per-month.