One in four women would pick tablet over sex, suggests survey
31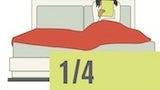 Tablets are slowly finding their way to more and more U.S. households, which inevitably alters the every day habits of the modern consumer. That is one thing that we can conclude after checking out this neat infographic, based on a recent survey conducted by Yahoo! A total of 2000 U.S. respondents aged 18 to 64 participated, and the result are quite intriguing, to say the least.
It turns out that 25 percent of women would much rather give up sex for a year to not using their tablet. Additionally, 15% of men would give up their car for a year just to keep their tablet. Men also tend to use tablets in the bathroom a lot more than women do – about a third of all guys admit to frequently bringing their slate to the loo, be it for reading, emailing, or socializing. Furthermore, over 90 percent of tablet owners say they use their tablets in bed before they go to sleep.
More information about the behavior of the modern tablet user can be found in the infographic. Find any of the results provided interesting? Feel free to let us know by dropping a comment.