OLPC XO tablet made for kids coming to Walmart this year
1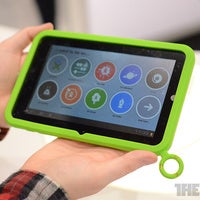 Here's the kind of tablet you surely won't mind giving to junior to play with. The OLPC XO is a colorful 7-incher running a modified version of Android adapted for use by children. That explains the simplified user interface and the rubberized case designed to protect the unit from accidental drops.
In terms of hardware, the OLPC XO tablet doesn't shine with anything in particular, but we doubt that the kiddos using it will complain. The display has a resolution of 1024 by 600 pixels, while inside it ticks a 1GHz dual-core chip by Marvell paired with 512MB of RAM and 4GB of storage. If needed, one can charge the tablet by using a hand crank (sold separately, we suppose), which provides 10 minutes of operation for each minute of cranking. A variety of educational applications made for children come pre-loaded onto the device.
Interested in getting one for the kids? Well, you'll have to wait until later this year when the OLPC XO tablet will appear at some Walmart stores across the country. Pricing has not been disclosed, but chances are that buying one won't burn a hole through your budget.