Now it looks as though some Nokia N8 units will be available in time for September
1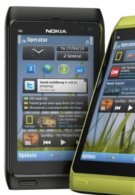 Perhaps the thought of seeing the
Nokia N8 being pushed back to an October release
made some individuals who pre-ordered the handset become filled with disappointment, but now it looks as though Nokia is coming back with an official statement regarding the matter. Yesterday, we reported that Nokia was going to push back the N8's release to October in order to make some "final amends" that would ensure a great user experience. However, the Finnish company is now stating that some, but not all, will be delayed – meaning that some lucky people will see the handset this month. Their statement looks like this:
There have been a few stories this morning about the N8 availability which we feel need clarification. As we have previously said, we still expect to start the shipments by the end of the third quarter. As with every global launch, when the device reaches the hand of the customer will vary by market and operator.
We have received a record number of online pre-orders for the Nokia N8. We had targeted our online pre-order customers to receive their N8s by the end of September. As it can take time from the beginning of shipment to arriving at their doorstep, in full transparency, we have advised our pre-order customers that they should expect their new Nokia N8 in October.
Now it'll all depend on the region and carrier which will dictate when the handset will arrive, still, there are going to be some people left waiting until next month to receive their orders. That's probably why Nokia is telling us all to expect it to come in October – so that we're not left with disappointment if it's coming earlier.
Nokia N8 Specifications
|
Hands-on
source:
Nokia Conversations