Verizon's Note 10 5G tests confirm the audio jack's demise with official schematics
3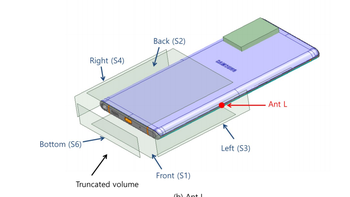 Throughout the years, we've seen plenty of the Federal Communications Commission testing setups for 3G and 4G handsets, but it is for the first time that we are seeing how the FCC tests a phone with 5G connectivity on board.
Said phone is none other than Verizon's 5G version of the
Galaxy Note 10
, and the tests, unearthed by
Droidlife
, include Samsung and Qualcomm input, as both are 5G modem suppliers for the handset, depending on which chipset it is using.
Among the mmWave and Verizon's 5G Ultra Wideband n260 (39GHz) and n261 (28GHz) frequencies parlance, one would be forgiven to pay the most attention to the actual 3D CAD renders of the Note 10. Since these are coming straight from the manufacturer, they kind of serve as an official confirmation for the first demise of the audio jack on a high-end Samsung phone.
Other takes from the Verizon's Note 10 5G testing is that the phone is compliant with the radio emission limits of the FCC by using something Qualcomm calls Smart Transmit that scales down power when the emission levels start getting out of hand.

It is aided by smart antenna placements that prevent interference and excessive heat, just this small paragraph can tell you what goes on behind the scenes of fine-tuning 5G connectivity on the Note 10.
Ant J and Ant K are placed at the upper of the device and the bottom side is excluded from the worst case because the distance from the bottom side is more than 10 lambda at 28GHz and 39 GHz. In Ant L case, five PD evaluation planes except top side are set up, Ant L is placed at the lower of the device and the top side is excluded from the worst case for the same reason as Ant J and Ant K.
Recommended Stories