Nokia's chronicling of Mission 31 well underway, World Cup fever has spread underwater too
9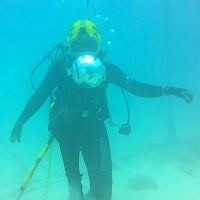 The grandson of legendary explorer Jacques Cousteau, Fabien, is in the process of spending 31 days underwater, exceeding his grandfather's record by one day. It is being called
Mission 31
.
To record the adventure, Fabien's team has been provided with several
Nokia Lumia 1020
's with their grand 41-megapixel camera. Those sensors are sure to pick up some remarkable footage and great pictures.
In case you did not notice, the World Cup is also underway, and the fever has reached the depths at Mission 31. Can you dribble a soccer football underwater? Does soda fizz? What happens to an egg when it is cracked underwater? These are important questions not only in the name of science, but in the name of being able to record the action and put it on YouTube.
All the photos and video are being captured with the supplied Nokias. With them, we get answers to all those questions.