Nokia Lumia will take us underwater with Fabien Cousteau and Mission 31
12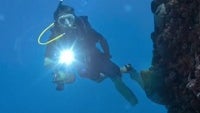 Nokia is keeping the momentum going behind its line of class leading camera technology in the Lumia line of smartphones. The iconic brand is teaming up with Fabien Cousteau, grandson to the legendary Jacques Cousteau, on what is being called Mission 31, in reference to the 31 days Cousteau and his team of aquanauts will spend underwater, one day longer than the elder Cousteau did in 1963.
Cousteau and his team will be anchored off the coast of the Florida Keys, and they will photo document everything using awesome
Nokia Lumia 1020
with its magnificent 41-megapixel camera.
Nokia is inviting folks to share pictures and videos of their own adventures using the hashtag #NokiaMission31. You can then use the URL from that social media (Twitter, Facebook, Vine, Instagram) entry to enter in a contest which will make you eligible for winning your own "truly unbelievable adventure."
That adventure involves flying you to a luxury hotel in Florida where you will be trained as an open water diver. With those newly acquired skills, you will dive with Fabien to experience some time with the Mission 31 team, and their underwater habitat.
Just as interesting as Mission 31 itself will be, it will also be interesting to see all the entries people share to win a chance at the adventure. Watch the video below to learn how to enter. What adventurous story will you share?
source:
Nokia
(YouTube)