Nokia reaches 86 million users for its Internet services?
This article contains unofficial information.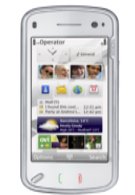 According to Reuters, Nokia was able to beat out their target level of 80 million users for its Internet services. The world's biggest mobile phone maker has not officially confirmed the data, but it seems that they've obtained 86 million users by the end of 2009 and aims to drastically reach 300 million by the end of 2011 – all the while generating annual revenues of 2 billion euros ($2.89 billion). With roughly some 1.1 billion people using Nokia phones around the world, John Strand who is the chief executive of Danish consultancy Strand Consult has said, "With the number of customers Nokia has globally it is not a problem to get millions of customers who do not pay. The problem is to get millions of paying customers." Despite a series of setbacks which include a botched launch of its Ovi Stores in May and the closing of its gaming service in October, Nokia has little direct engagement with its users – unlike Apple or Google. In order to achieve their targeted goals, "increasing its communication and interaction with consumers is critical," says Ben Wood, head of research at CCS
Insight
.
source:
Reuters