Nokia introduces Nokia Asha lineup: Asha 200, Asha 201, Asha 300, Asha 303
3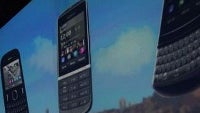 Nokia has kicked off Nokia World 2011 with a whole new lineup of phones – the
Asha series
. This is the company's low-end offering, targeting developing markets and there are four phones that the company brought up: the dual-SIM Nokia Asha 200, the similar but single-SIM variation named Asha 201, the Asha 300 and finally the QWERTY-equipped flagman, the Asha 303. All of them use
Series 40
as their platform and are the first feature phones to come with Angry Birds pre-installed. Let's a take a look at each one of them separately.
First on the list is the affordable and colorful
Nokia Asha 200
. It combines a QWERTY keyboard with a touchscreen and it's the company's lowest priced device with a full physical keyboard. It also has a second SIM card slot for hot swapping your cards, something which developing markets should appreciate. The Nokia Asha 201 is the single SIM version, otherwise it looks the same. You can extend the memory on both handsets by up to 32GB via microSD cards. At just $84 (60 euro) off contract, that seems like a steal, doesn't it?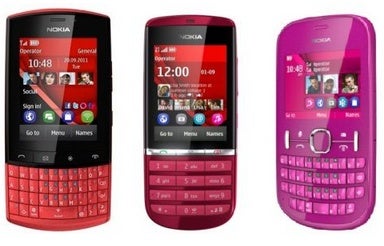 Nokia Asha 303, 300 and 200
Next on the list comes the
Nokia Asha 300
, made in the classical candybar form factor. It comes with a resistive screen but reportedly a very responsive one. Again, it's very affordable at $118 (85 euro) off contract, with 3G and a 5-megapixel camera.
Finally, the
Nokia Asha 303
, with its full QWERTY keyboard and capacitive screen is the most luxurious offering in the series. It comes for the affordable $160 (115 euro). The Nokia Asha 303 release date is set for this quarter.
Nokia is still to announce the actual specs of the devices, so we'll update you on those as soon as we have more information.
source: Nokia