Nokia announces a slew of accessories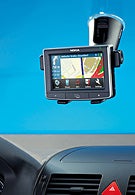 Nokia BH-902
is a Bluetooth headset with DSP and up to 8 hours of talk time. Weighting 18.2 grams, it packs an OLED display to show information on incoming call or message. The price will be about EUR115 (USD$160).
Nokia BH-903
are Stereo Bluetooth headphones. The module connects wirelessly to your phone and from it the headphones come with cables to your years. On the module there is OLED display that gives information for controlling the music and calls. Nokia claims 15 hours for talk/music time and price of estimated EUR200 ($273).
are stereo Bluetooth speakers, for listening to music on the go. They are developed in cooperation with D & M Premium Sound Solutions but are done in the typical for Nokia design. They are expected to be globally available at EUR130 ($180).
Nokia Power Pack DC-1
is a mobile battery, that can charge simultaneously 2 Nokia devices. You charge the DC-1 and when you cannot connect your other Nokia device to the power outlet (when on the go for example), connect it to the DC-1 to get it charged. DC-1 will be available globally at about EUR105 ($143).
is a standard GPS module that connects with Bluetooth. It can connect to either phone or any other device that supports Bluetooth. Unlike most other rival solutions, it is made to look stylish. LD-4W will cost about EUR125 (USD170).
While you will need a device with display on which to install GPS navigation software for the LD-4W, the
Nokia 500 Auto Navigation
is a stand-alone solution. It has 4.3 inches big display and built-in GPS chip, and installed in the car will act as any other car GPS solution. In addition, it connects to the phone via Bluetooth and acts as a car kit, showing the contacts on the display and using DSP for higher call quality. The device also has media features and can play music and videos, or preview pictures. The sound can be played through the car's stereo system via FM transmitter. The device will be available in Europe in Q4 for EUR300 (USD410).