Nokia announces 8600 Luna and 6500 series
1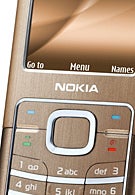 Nokia announced the
8600 Luna
which was rumored last months. It seems that this is the manufacturer's new hi-end stylish phone, to replace the 8800 Sirocco Edition, which is shown by the price of the device - $940 (700EUR) before taxes. The Luna uses materials like chrome, stainless steel, titanium, and smoked glass.
The 8600 Luna is quad-band GSM with 2-megapixel camera. It will feature microUSB port, used for charging, headset and cable connection. It finally replaces the Nokia charger port found on previous phones, even ones using miniUSB. microUSB was first used in Motorola RAZR2 phones.
In addition to the 8600 Luna, Nokia also announced two new phones coming part of the
6500 series – Nokia 6500 slide and Nokia 6500 classic
. Nokia has registered the www.nokia6500series.com domain which shows that the 6500 will be a whole new line of devices.
The 6500 classic is 9.5mm (0.37") slim candybar crafted from anodized aluminum.Being a stylish model it is individually polished, "ensuring that no two phones are exactly alike". "Diamond polishing used on the beveled display aperture and cold stamped logo demonstrate the highest levels of craftsmanship."
6500 classic offers 1GB of built-in memory (probably not expandable), 2-megapixel camera with dual-LED flash, quad-band GSM and dual-band UMTS (3G). It also features microUSB.
The Nokia 6500 slider is also Series 40 device but is the first such to offer 3.2-megapixel camera with Carl Zeiss lens. Stressing on imaging, it also offers TV-out. It is also quad-band GSM and dual-band UMTS as the classic phone.
Both the 6500 phones are expected in 3rd quarter. The 6500 classic should be $430 (320EUR) and the 6500 slider $500 (370EUR) before taxes and subsidies.
source: Nokia