Nokia N77, 6110 Navigator and 3110 entry-level phones
1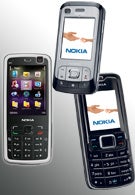 Nokia announced the first DVB-H capable N-series handset as well during 3GSM 2007 -the
Nokia N77.
The new product portfolio will include the first N-series device with built-in DVB-H support, allowing watching of live TV broadcasts. The DVB-H service, unlike the network streaming of TV utilizes a separate communication channel to receive live TV broadcasts. The DVB-H service is already used in Europe and is expected to be launched in the US as well. Currently, Verizon Wireless is the only US carrier to have similar and incompatible service, but based on different broadcasting technology, called MediaFlo.
Unfortunately, the N77 is only Europe-bound as it is tri-band GSM (900/1800/1900) with EU only UMTS.
Like similar devices, N77 features a dedicated TV key to activate the DVB-H reception. It remembers the last channel you were viewing when you switched off the TV. You can also set reminders to alert you when your program is starting and access it at the push of a button. Through the Program Guide in the mobile TV application you can view program information up to seven days, browse TV channels, purchase new channels if desired and select the TV program you are interested in.
The rest of the feature set is pretty standard and includes Bluetooth, 2-mega pixel camera, POP3/IMAP with attachment support. The operating systems is again standard S60, 3rd Edition.
The devices is expected to launch commercially in Q2, 2007 and will have unsubsidized prize of 370EU ($480 USD).
Yesterday, we spotted the
6110 Navigator
advertisement on a Nissan Qashqai, and today Nokia announced it officially. Although there has been Nokia 6110 model back in '98, the new Navigator has this number as a name.
The Nokia 6110 is nothing extraordinary when compared to other S60 phone, except for the built-in GPS. Together with Nokia's Maps and Navigation software, it will show you where you and where you are going, on the QVGA display. Other features of the quad-band GSM (plus European UMTS/HSDPA) phone include 2-megapixel camera and FM radio.
The Navigator will come with a local map pre-installed on the memory card and will be ready for immediate navigation. Additional maps and content such as traffic information, weather services and travel guides can be purchased online.
The maps also show thousands of points of interest, such as restaurants, hotels, shops or other services nearby the location, including phone numbers and web addresses for calling and browsing directly with the phone.
Nokia 6110 key features include:
* Quad-band GSM with UMTS/HSDPA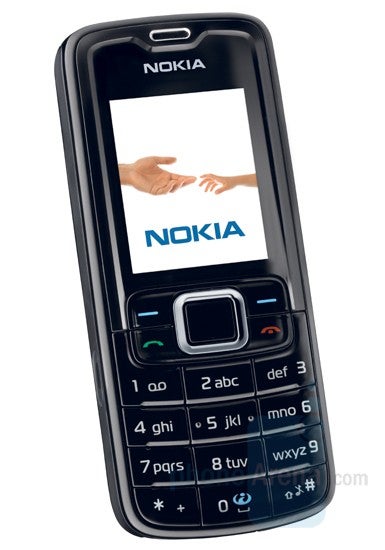 Nokia 3110
* 40 mb memory
* microSD memory card
* 2-mega pixel camera
The estimated retail price of 450 EU before subsidies or taxes.
The only low end device announced is the
3110
. It is a tri-band GSM for E urope/Asia with small 128x160 pixels display, FM radio, Bluetooth and 1.3 mega pixel camera. Its planned market introduction is Q2 2007.
For more live images, check our hands-on report from 3GSM 2007