New RAZR ICS leak matches file size from Verizon documents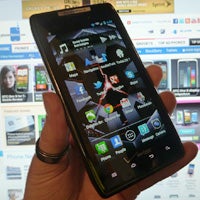 The folks over at DROIDRZR have released a new build of Android 4.0 Ice Cream Sandwich for the Motorola DROID RAZR. The latest leak checks in at roughly 343 MB, which is only 2 MB over of the file size listed in
yesterday's Verizon documentation
.
This leak brings the RAZR up to
build 6.14.84
and has a
build date of April 26, 2012
. This particular leak only works if you are running build 6.12.181, which is the incremental Gingerbread update that was released the other day. That is another sign that this may be the real deal that could see an official release relatively soon. As we reported yesterday, Verizon's ETA is allegedly May 23rd for the RAZR and RAZR MAXX.
SPEED. It's way smoother and faster
New kernel
New CDMA radio (LTE remains the same)
When receiving a call, there's a new button in addition to your answer/ignore so that you can respond with a text.
We installed an ICS leak on a RAZR the other day. Our version, Build 6.14.75 with a build date of March 25, 2012, while it was a different kernel, also sported the text message button on incoming calls. We've included a few photos of our install below in case you're wondering what this feature looks like.
If you're ready to dive in and just can't wait for the official update, head on over to DROIDRZR in the source link. As always, proceed at your own risk.