New Apple Watch app Breathe turns your wearable into a deep breathing coach
1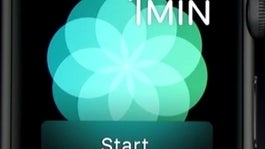 On stage, Apple announced a brand new Apple Watch app created for stress relief. Breathe turns your wearable into a deep breathing coach that reminds you to calm your body and mind by taking moments to go about filling your lungs with precious oxygen in a slow, methodical manner.
When you call the app on your Apple Watch, it will display an animation coordinated with your breathing speed and start measuring the number of breaths you take per minute. When you're done, it will present a summary of your session containing your breaths per minute and average heart rate. It's a small and lightweight app, but it can potentially do wonders.
We didn't get the memo on when this little bit of breath relief magic will arrive on your Apple Watch, but we assume Breathe will be part of an upcoming watchOS update. Stay tuned for more coverage as Apple's WWDC 16 keynote unfolds this very moment!
Recommended Stories