Netflix HD ported to the Galaxy Nexus
3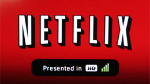 We hope that it's officially coming from Netflix sooner rather than later, but in the meantime, the good folks at xda have ported Netflix HD for use on the sweet 720p screen of the Galaxy Nexus. Netflix has said that HD would be supported first on TI OMAP-based handsets, so the Galaxy Nexus should be on the short list there.
The port does come with a couple caveats though. The video doesn't stretch to fit the screen fully, so if you have an aversion to the black bars, you may be annoyed with this, but the quality of the video should be enough to make you happy. Also, there are reports that this APK has compatibility issues with Android 4.0.3, so you'll be better served if you haven't gotten the newest update yet. There have also been reports of some bugs on the GSM Galaxy Nexus, but those seem to be hit or miss, so you could get lucky.
If you want to give it a shot, just jump to xda to grab the APK.