NVIDIA introduces its new Tegra X1 chip with twice the power of the Tegra K1
62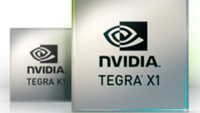 NVIDIA held its CES press event on Sunday night, introducing its next mobile "super" chip. The 256-core NVIDIA Tegra X1 brings over one teraflop of processing power to mobile devices. That is more that twice the power that was offered by the NVIDIA Tegra K1. The NVIDIA Tegra X1 will be available in the first half of the year, and is designed for "
embedded products, mobile devices, autonomous machines and automotive applications."
The NVIDIA Tegra X1 includes a 256-core Maxwell GPU, 8 CPU cores consisting of 4 Cortex-A57 and 4 Cortex-A53 CPUs, 60 fps 4K video (H.265, H.264, VP9), 1.3 gigapixel of camera throughput and the chips are produced using the 20nm process. With the powerful Maxwell graphics power on the NVIDIA Tegra X1, the company says that the chip is the first mobile processor that can hold its own against supercomputers and game consoles.
"We see a future of autonomous cars, robots and drones that see and learn, with seeming intelligence that is hard to imagine. They will make possible safer driving, more secure cities and great conveniences for all of us. To achieve this dream, enormous advances in visual and parallel computing are required. The Tegra X1 mobile super chip, with its one teraflops of processing power, is a giant step into this revolution."-Jen-Hsun Huang, CEO and co-founder, NVIDIA
How time flies! According to NVIDIA, the Tegra X1 has more power than the fastest supercomputers of 15 years ago. And while ASCI Red took up 1,600 square feet and used 500,000 watts of power (another 500,000 watts was used to cool the room the supercomputer was in), the Tegra X1 is the size of a thumbnail and draws under 10 watts of power.
source: NVIDIA