Motorola's Moto G (2015) promo videos are colorful but informative
4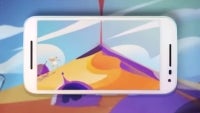 Earlier today, Motorola unveiled the
third-generation Moto G
, a notable refresh in the company's affordable but capable smartphone lineup. If you're new to the handset, you've probably landed in the wrong place, but don't worry, here are links to some of the most useful articles such as an overview of the
Motorola Moto G (2015)
, more
details about availability and pricing
, a visualization of how the
3rd gen Moto G sizes up against its direct competition
, or even an analysis of
the hardware evolution the Moto G lineup
went through in the past couple of years.
Now that you've got a good understanding of the new Motorola Moto G, you'll know exactly what the company is talking about in its three new Moto G promos.
The main bit is a rather colorful introduction to the 3rd generation Moto G. Titled "Moto G: The Phone that's Always There for You", the clip doesn't focus on any particular feature or detail, skipping through the most important specs such as the 5-inch 720p display, the 13MP primary camera, LTE support, the all-day battery life, Motorola's pure Android experience, as well as the handset's IPx7 water resistance.


The second clip is more specific. It's a visual exploration of the type of protection the user should expect from the handset's IPx7 waterproof certification.


The last of the three Moto G promos details the steps the user should take to ensure that the device is protected against the elements. In other words, it's a reminder to close all of the protective caps before taking the 3rd gen Moto G for a swim.
What do you guys make of these Moto G (2015) promo videos?