Motorola website source code suggests a wood-backed Moto X could cost $50 extra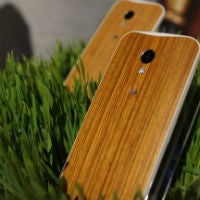 The Moto X was released today along with the Moto Maker customization tool. Moto Maker doesn't yet offer the option for a woodgrain back plate for the device, but we know that will be happening eventually. However, if you take a look at the Motorola website source code, it seems that the special back plate could cost you extra.
It definitely wouldn't be a surprise if Motorola were to charge a premium for the wood back. The real question is: would you pay $50 extra for it?