Motorola teases wireless lifestyle, depressed cords ahead of CES
17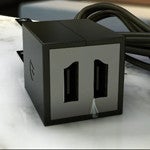 As we enter the weekend before CES, PR departments are going into hype-r-drive mode. This moment's example comes from Motorola, who sent us a video this morning; the video shows a time-lapse day hurrying by (watch the moving sunlight and shadows) with the tag line "Stay unplugged", suggesting either
wireless charging
or giant leaps in battery life for the the products they will introduce at CES.
Motorola has already made strides towards cordless syncing of files with their upgraded MotoCast with wireless sync found on the Droid RAZR, and they have emphasized the
importance of differentiating their Android handsets
. Not having to plug in your phone (or at least not have to nearly as often) would be most welcome to current LTE smartphone users, who sometimes find themselves charging their phones twice a day.
The video also features the innocents that will be hurt in the process - a lonely power cord becomes sad and even sheds a tear by the end of the video. You cruel, cruel consumers that would abandon your power cords, after all they've done for you!...
...or maybe it's supposed to be a comic twist. It's certainly worth checking out, and if you think you know exactly what sort of improvements Motorola has in mind let us know in the comments section.


source: Motorola