Motorola to add Samsung DeX-like feature to select smartphones
1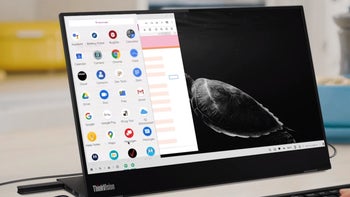 Samsung
's DeX mode is a nifty feature that turns a Galaxy smartphone into a multi-purpose desktop PC on the fly. It's great for those who need to work and don't have a PC at their disposal, but DeX mode has is a great feature to have overall.
It seems that
Motorola
eyed Samsung's DeX mode and plans to bring it to some of its smartphones. Although we don't have official confirmation yet, a
video
presented during Qualcomm's Tech Summit Digital 2020 shows off a Motorola smartphone connected to a Lenovo ThinkVision display.
Unfortunately, it's hard to tell what Motorola phone stars in the video, but it's safe to assume that the US company will bring the DeX-like mode to most of its popular smartphones. Truth be told, it's a bit unfair to say that Motorola will bring a DeX-like feature to its smartphone since between the two companies, it was Motorola that first tried to offer a desktop experience via a mobile device.
For those who don't remember,
Motorola Atrix 4G
could be slotted into a special laptop dock with an 11.5-inch display, which also charged the phone. Unfortunately, the combo didn't offer a smooth experience probably due to the hardware limitations (the
Atrix 4G
is nearly ten years old).
That being said, it's nice to know that Motorola hasn't abandoned the idea and that we'll probably see a more advanced Moto WebTop experience in the upcoming Moto G devices. It remains to be seen whether or not Motorola's desktop mode will be added to some of the current Moto G phones as well.