Motorola Moto E5 Plus & E5 Play hands-on
6
There's no denying that the entry-level segment of the market is saturated, occupied by a host of devices that are aggressively priced to the point where we sometimes scratch our heads and wonder how they're able to pack so many things at such low price points. Even though Lenovo is also announcing a pair of new phones in its Moto G line, we're seeing another two in its budget line – the
Moto E5
Plus and
Moto E5 Play
.
Design
While the Moto E5 Play appears to have a marginally tweaked design with its textured plastic body, it's the Moto E5 Plus that we're astounded by with its new premium looking design. Having more similarities to the just announced
Moto G6 Play
, the Moto E5 Plus is donning a slick 3D Polymer Glass body with curved edges. Between the two phones in the line, the E5 Plus is undeniably the looker with its glass construction, especially how light bounces beautifully off its surfaces.
With the new designs, they're accompanied with 3.5mm headphone jacks, fingerprint sensors, and the p2i water repellent coatings that are found with the other two new phones in the Moto G line. This, of course, means that they'll be safeguarded them from minor splashes – but they're not waterproof. Yes, the Moto E5 Play's design is indicative of what we'd expect in the entry-level line, but we're still amazed by the E5 Plus' transformation into a beautifully crafted smartphone!
Display
Between the two, it's the Moto E5 Plus that's sporting the larger display – a 6-inch Max Vision HD+ (1440 x 720) IPS display. In contrast, the Moto E5 Play is brandishing a 5.2-inch HD LCD display, which in today's market seems rather tame. In looking at the two displays during our short time, our eyes are attracted more to the rich and potent colors put out by the Moto E5 Plus' display. It really grabs our attention, more so when it's place side-by-side to the dull tones produced by the E5 Play's display.
User Interface
Diving into the software running on the two phones, they're both running a mostly stock Android 8.0 Oreo experience – so purists will be happy to see that out of the box. Naturally, being Moto branded smartphones, you can expect to find many of Moto's signature features that we've come to appreciate. From the vast Moto Actions at our disposal, to Moto Display that breathes useful information, there's nothing really out of the ordinary that we haven't seen before.
By now, it's pretty evident that the Moto E5 Plus is the superior one between the two, which is again confirmed by the Qualcomm Snapdragon 435 SoC coupled with 3GB of RAM, the Adreno 505 GPU, and 32GB of storage it's packing for the ride. Meanwhile, the Moto E5 Play is powered by either a Qualcomm Snapdragon 425/427 SoC coupled with 2GB of RAM, the Adreno 308 GPU, and 16GB of storage. Both smartphones also feature microSD card slots for storage expansion. We can tell that there's a little bit of stutter with the Moto E5 Play's performance, so if small things like that might annoy you, then you might want to stick with the better response of the Moto E5 Plus. Then again, we really can't recommend either one for hardcore gamers.
Camera
Shutterbugs that crave features and better results will want to stick with the Moto E5 Plus because its 12MP camera features an f/2.0 aperture, phase detection auto-focus, 1.25um big pixels, and a slew of shooting modes. They include HDR, panorama, manual, burst shot, best shot, and slow-motion.
Oppositely, the Moto E5 Play is only accompanied by a paltry 8MP sensor with an f/2.0 aperture lens and 1.12um sized pixels. Even though there might be an advantage for the Moto E5 Plus, only time will tell if it'll indeed produce the sharper looking photos and videos.
Battery
In the battery department, it's astounding to know that the
Moto G5 Plus
is carrying a monstrous 5000 mAh battery cell – the largest of the bunch announced this time. This non-removeable battery is no doubt impressive, as we have high expectations with its performance, more so when you factor in that it's not being tested by some high-res display. Even though the Moto E5 Play's battery capacity doesn't compare, it's worth noting that the 2800 mAh battery it's carrying can be swapped out.
Expectations
Pricing and availability about both smartphones are unknown at the moment, but given how they're positioned as entry-level models, we can expect them to be priced less than the two new smartphones announced in the Moto G line. We're guessing that they'll be under $150, with the Moto E5 Play coming in at the sub-$100 range. They'll be sold unlocked, of course, but here in the US, you can surely bet that they'll be available in some capacity as pre-paid options.
Moto E5 Play hands-on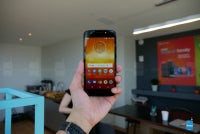 Moto E5 Plus hands-on