Motorola Droid RAZR HD vs Samsung Galaxy S III vs Droid RAZR MAXX HD vs Droid RAZR M: spec comparison
49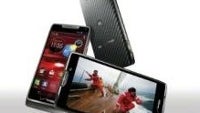 The
Motorola Droid RAZR HD
has just arrived with a splash and it's the monster Android phone that everyone expected it'd be featuring a large high-res Super AMOLED display and a long-lasting battery. The phone is getting an exclusive appearance on Verizon Wireless in the United States, but a global version is also coming soon.
It's not the only great device that Motorola unveiled today, though. The Droid RAZR MAXX HD is an almost identical twin of the RAZR HD except for the even bigger battery and slightly bulkier looks. If you want to go truly compact, though, the Droid RAZR M should be your obvious choice.
Motorola took a jab directly at Apple with the Droid RAZR M, a device nearly the size of the existing iPhone 4S, but designed so brilliantly that it fits a 4.3-inch display, much larger than Apple's 3.5-inch iPhone screen. The RAZR M is an affordable phone shipping soon.
And how do all these awesome new additions to the Motorola lineup stack up against the most coveted Android smartphone these days, the Samsung Galaxy S III? Check out our spec comparison to find out.