Motorola DROID Turbo 2 and Maxx 2 prices and release date on Verizon
7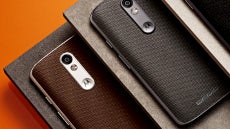 The Verizon execs just got off the stage where they announced the
Droid Turbo 2
and
Maxx 2
juggernauts, and it seems that the devices will be released as soon as Thursday, September 29th in 1600 Verizon retail stores, as well as online.
The Turbo 2 comes with a Snapdragon 810 processor, 5.4" Quad HD AMOLED display, 21MP rear camera, and 5MP front camera with wide angle lens. The TurboPower 3760 mAh battery can last two days on a charge, and with the TurboCharge tech in can be juiced for 13 hours of usage in 15 minutes. The Droid Maxx 2, on the other hand, has a 5.5" 1080p display, the same camera setup, and a smaller, but still very respectable 3630 mAh juicer that offers up to 48 hours of mixed usage.
The Turbo 2 is obviously the more decked-up version, as it offers a shatterproof ShatterShield display, but it is also the more expensive of the two, as it will retail for $624 without a contract for the 32 GB, and $720 for the 64-gigger, while the Maxx 2 is $384 for a 16 GB option, though it comes with a microSD slot, too.
On installments, the Turbo 2 will run you $26/month and $30/month for the 32 GB/64 GB versions, while the Maxx 2 is just $16 a month. You can trade-in your old phone for the Turbo 2, and receive up to $300 for it, while for the first time Verizon will accept cracked screen trade-offs. Not only that, but with the Turbo 2 you can use the Moto Maker on a Droid for the first time, and configure it to your own liking from the very beginning.