Motorola DROID 2 Global confirmed at 1.2GHz, VZ Navigator for it appears on Android Market
1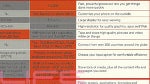 A leaked Verizon comparison spec sheet has all but confirmed the 1.2GHz chipset of the
upcoming Motorola DROID 2 Global
. The sales list compares it to other top-tier phones, and, check mark by check mark, seems to declare it a winner.
Of note here are the 1.2GHz CPU, 16GB of included memory (8GB internal + microSD card), support for both Verizon's network and global GSM networks, and the 5MP camera with LED flash, touted as having low-light capabilities, which might mean a backlit sensor, similar to the iPhone 4. On the software side, the landscape QWERTY handset will sport three profile options - Home, Work and Weekends, with seven homescreens each, for a grand total of 21.
The Motorola DROID 2 Global is obviously targeting the business crowd, as it lists a bunch of corporate-friendly features. It comes with QuickOffice for editing documents on the go, offers remote wipe of your phone and memory card, and sports enhanced email and office collaboration software, such as a live view of multiple schedules.
Android Market has already been populated with VZ Navigator for the Motorola DROID 2 Global, so all we are waiting for now, is the actual official announcement, which should shed some light on the type of chipset inside - dual-core OMAP4, or single core, overclocked to 1.2GHz. In both scenarios, this would be the fastest stock chipset on a phone so far.
source:
AndroidCentral
&
DroidLife