Moto X Style and X Play come with superb screen-to-body ratios: size comparison time!
21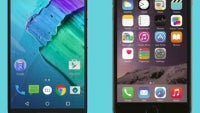 The new Moto X 2015 has landed, and as it has turned out, we're talking not one, but two new Moto X phones: the
X Style
and the
X Play
. Both feature huge displays, with the Style now happily venturing into phablet territory at 5.7", and the X Play occupying the borderline position of 5.5". What's interesting about these two handsets, though, is their spectacular screen-to-body ratio: both sit at 76%, which is rather high. In fact, it's higher than what most other mainstream high-end smartphones offer!
For example, the
Note 4
comes closest to Moto's new propositions, as it flaunts a respectable 74% screen-to-body ratio. However, it has more of a rectangular shape, which reduces the effect of its slim bezels somewhat. Meanwhile, Apple's
iPhone 6 Plus
is markedly spacious in this respect with its almost 68%. Good thing it's extremely thin! LG's
G4
, which one would think is to be the closest rival to the Style and Play in the bezels department, is also trailing behind with its 72%.
With all that said, it's still obvious to the eye that Moto's new smartphones have gotten quite big, especially in comparison to the previous two generations, as you can see in the last row below. Still, the super-high screen-to-body ratio remains a signature feature of the series, which enables the newest Moto X phones to offer stunningly large displays in packages that aren't really that unmanageable.