More phones for AT&T
3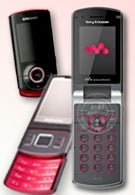 You didn't think it was over, did you? More of those slides have been leaked, giving away information about a number of other phones for AT&T. First, we have three Samsung handsets: the
Fluxus
, the
Scotney
and the
Pilar
(a247). The first one is a stylish slider, strongly resembling the
Samsung UltraTOUCH
. Obviously, this is another mid-range phone of the series, sporting a 2.6-inch non-touch screen, 2MP camera and a dual-band 3G. The Fluxus is expected August 10. The Samsung Scotney is expected to be a budget slider. It features smaller 2.2-inch QCIF display, 2MP camera, aGPS and HSDPA connectivity. Finally, here we have the Samsung Pilar – an ultra simple slider with a 2.0" display, VGA cam and lack of 3G.
On the LG front we have the
Georgia
and the
Shine 2
. Now, the Georgia is a really good-looking slider, possibly coming in Q3-Q4 2009, equipped with a 2.8-inch touch-sensitive display, 3MP AF camera, MediaFLO and dual-band 3G. The LG Shine 2 seems to have a 2.2-inch QVGA screen, dual-band 3G and an aGPS. This one is also expected in the second half of the year, but keep in mind it may not look like the device on the image, which seems to be the KF510.
Last but not least, we have two Sony Ericsson phones. As the source says, the
Bruce
seems to be the
W518a
, with a 2.2-inch QVGA display, 3.2MP camera, fully-fledged HTML browser, 3D gaming and some other Sony Ericsson-like stuff. The other handset looks somehow more intriguing – the
Tobey
, aka
C905a
is, as you probably know, an 8.1MP camera phone with a Xenon flash and large number of other photographic goodies. It looks like the release dates of these two have already been changed, so we will keep looking for them.
source:
EngadgetMobile
,
here
and
here