More leaked images of Huawei's successor to the Ascend Mate show up, some specs revealed
5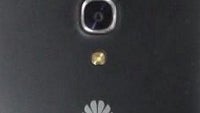 The Huawei Ascend Mate made its
debut at CES 2013
this past January, and it made a big splash as it dethroned the then-screen-size king, the Samsung Galaxy Note II, with its large 6.1-inch 720p display.
Since then however, things continue to get larger. The Samsung Galaxy Mega 6.3 is around now, and while not as large, the Galaxy Note III, Oppo N1, and HTC One max are available to offer similar sized real estate with remarkable hardware to round up some of the competition.
Based on the latest crop of images and
other leaks we have seen
, Huawei has wisely decided to retain the 6.1-inch display and from the looks of it, has made the body just a touch more compact. The original Ascend Mate was not all that uncomfortable to hold for such a large device. In fact,
in our review of the unit
, our only real gripes were with its camera and on-board storage availability. Based on the images below, it looks like a few design queues were taken from Samsung (though arguably not outright copied).
Spec-wise, the Ascend Mate 2, has been spotted running Android 4.2.2 and Huawei's Emotion UI remains part of the package. The CPU is said to be a 1.6GHz quad-core unit. 16GB of storage is on board as well. What is still a question mark apparently is if the resolution of the display will be upgraded from 720p to a full 1080p.
Release date, pricing, et al, are all still unknown. Based on the timing of this leak, it would seem appropriate if Huawei announced this new device at CES 2014, but that too is anyone's guess at this point.
sources:
Huawei News
via
Engadget