Huawei Ascend Mate hands-on
23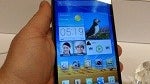 The Samsung Galaxy Note II is no longer the big boy in the house, Huawei has unleashed a massive 6.1-inch display Ascend Mate. The Ascend Mate is a device built around a large screen with a larger battery. The 4,050mAh battery is expected to provide days of use and standby time measured in weeks.
Underneath we have the same 1.5GHz quad-core processor found on the Ascend D2. The 6.1-inch display is 1280x720 and covered by Gorilla Glass. Android 4.1 Jelly Bean is on board with Huawei's "Emotion UI." Just like its smaller cousin, the UI is clean and there are themes available to further personalize the experience. Even with its size, it weighs in at under 200 grams, so its weight is not uncomfortable. The responsiveness is smooth which is expected given many of its insides are the same as the Ascend D2. The Ascend Mate supports microSD card expansion which will come in handy since the size of this display will be quite nice to watch videos on.
The camera is an 8MP with HD recording. The front facing camera is 1.0MP. Bluetooth 4.0 LE is on board as well. The Ascend Mate will also be available next month internationally, while Huawei continues its discussions to secure US carriers. Pricing was not made available at press time. We have uploaded some pictures for you to view, and will update with video shortly so stay tuned for updates.