Likely Huawei Ascend Mate 2 front panel leaks out, still a 6.1-inch giant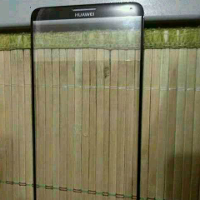 Snaps of the front panel of a devicethat looks suspiciously alike to the gigantic HuaweiAscend Mate have been leaked by French Nowhereelse, revealingthat a possible successor may be in the works as we speak. Thealleged Ascend Mate 2 is reported to sport the exact same 6.1-inchscreen as its forerunner, though it does appear to have grown insize, as you can see in the gallery below.
Considering some of thecompetition, the Huawei Ascend Mate may not appear that much of agiant, but do keep in mind that at 6.1-inches, there are a less thana handful of devices that tout a more impressive diagonal. Despiteit's awesome size and generally great specs, however, the Ascend Matedoesn't seem to have been much of a hit with consumers. This could bedue to a number of reasons – the IPS display, for one, is far fromsatisfactory at 720x1280 (241ppi). Moreover, Huawei's Emotion UI ontop of the now aged Android 4.1.2 isn't everybody's cup of teaeither, especially in the West, where the company is struggling towin over hearts.
source: Nowhereelse