Microsoft wants to work with Pebble to add Windows Phone support
13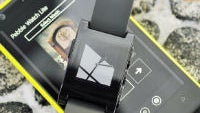 Pebble is the most popular, and likely the best smartwatch that is currently on the market, but the wearable only supports Android and iOS right now. Microsoft wants to change that, or at least one engineer at Microsoft wants to change that by announcing intentions to work with Pebble to bring Windows Phone support for the smartwatch.
Microsoft engineer Sam Stokes took to the Microsoft Developer Network (MSDN) blog to talk about his intentions. Stokes mentions the unofficial Pebble app that already exists for Windows Phone, but mentions that it has serious limitations because it doesn't utilize background task objects. He also says that he spoke with a Pebble Watch engineer, and surprisingly the engineer "didn't know that the interface with Windows 8 is similar to the interface they use with the iPhone", and so Stokes will "explore the possibility of working with the Pebble Watch".
This doesn't necessarily mean that anything will come from all this. Exploring the possibility doesn't mean that there will be an official Pebble app for Windows Phone, but it is a very good start in that direction.