Microsoft patents reveal smartwatch features
25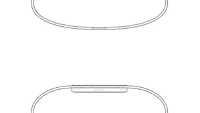 With every major tech firm producing, or planning on producing a smartwatch, Microsoft's recent patents have given away some of the company's plans about its future wearable device. Last week, it was revealed that Microsoft had received a patent for a smartwatch like device, with a body that can be removed from a wrist band and attached to a belt. The body includes a touchscreen display and a dock that allows you to connect it to a charger, or to sync to a PC or laptop.
The other patent, discovered on Sunday, covers the electronic band that the body of the watch connects to. The image of the band is similar to the one used on the earlier patent, which increases the chance that this is what Microsoft's smartwatch will look like.
You can check out images from both patents by clicking on the slideshow below.
source: USPTO via
WMPoweruser