MetroPCS quadruples the Gs in its latest ad featuring Snoop Dogg, Ted Williams
5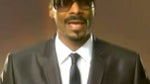 MetroPCS might not be one of the majorcarriers in the States, but it sure is when it comes to 4G and fast transfer speeds. The carrier was the first to launch an LTE servicespanning over the major metropolitan areas. Just two weeks agoit rolled-out the first commercially available Android handset with 4G LTE radio, the Samsung Galaxy Indulge, andnow with its latest ad campaign it reinstates its forefront 4G position bydoubling the number of Gs the nickname of hip hop legend Snoop Dogg.

"It feels good to be working withMetroPCS and Samsung for the launch of the Galaxy Indulge. I'mstepping it up to 4G's so my phone can keep up with my demanding,always-connected lifestyle," the rapper commented.
So, yes, the Dogggg has switchedhis job to "multi-taskin'", but the commercial is all the moreinteresting as it also features the Golden Voice man, TedWilliams. Stunning model Brittany Dailey is the cherry onthe cake, which should get all men frantically looking for the playbutton below. No need to rush, the video is not going anywhere and when you're done watching don't forget to check out the full press release on the carrier's website below!