Meizu 15 lineup coming April 22 according to leaked poster
0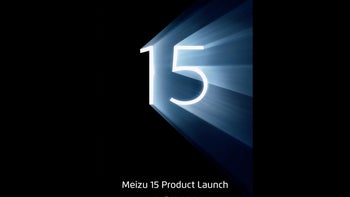 UPDATE:
Meizu got in touch with us and confirmed that the Meizu 15 series will be announced on April 22.
"Having celebrated Meizu's 15th birthday last month, we're excited to announce a new flagship product series,"
said Ard Boudeling, Head of Global Marketing at Meizu.
"On April 22, we will showcase the best Meizu has to offer in the shape of the Meizu 15 series."
Meizu's upcoming 15 lineup will be unveiled on April 22. The Chinese brand has made no secret of its plans to launch the smartphone lineup in celebration of the company's 15th anniversary. So far, however, Meizu has remained pretty quiet in regards to when the devices would be unveiled. Thanks to a newly-leaked poster, though, it appears the new lineup could make an official appearance within a matter of weeks.
The poster itself confirms that
Meizu
will be holding an event in China for the launch of the smartphone series, which is set to include the Meizu 15, Meizu 15 Lite, and
Meizu 15 Plus
. These devices are set to boast a more traditional 16:9 aspect ratio, while fingerprint scanners and 4G LTE support are also set to come as standard. In terms of memory configurations, Meizu is rumored to be preparing a number of variants – the lineup is set to feature options ranging between 3GB of RAM and 32GB of storage, and 6GB of RAM and 128GB of storage - while in the software department, Android 8.0 Oreo is set to be included. In either case, one week after the unveiling, on April 29, shipments of the new lineup are set to begin, although it's worth noting that it will initially be exclusive to the Chinese market. Eventually, however, Meizu is expected to bring the new devices to a number of other markets across the globe, with one of the first set to be India. Unfortunately, in terms of a US release, nothing has been confirmed as of yet.

Now, despite the nearing launch of the anniversary lineup, Meizu is reportedly already hard at work on its follow up, currently being dubbed the Meizu 16 series. Not much is known about the devices, but considering previous rumors pointed towards a late summer release, it appears the Meizu 15 line could be set for a pretty short run.